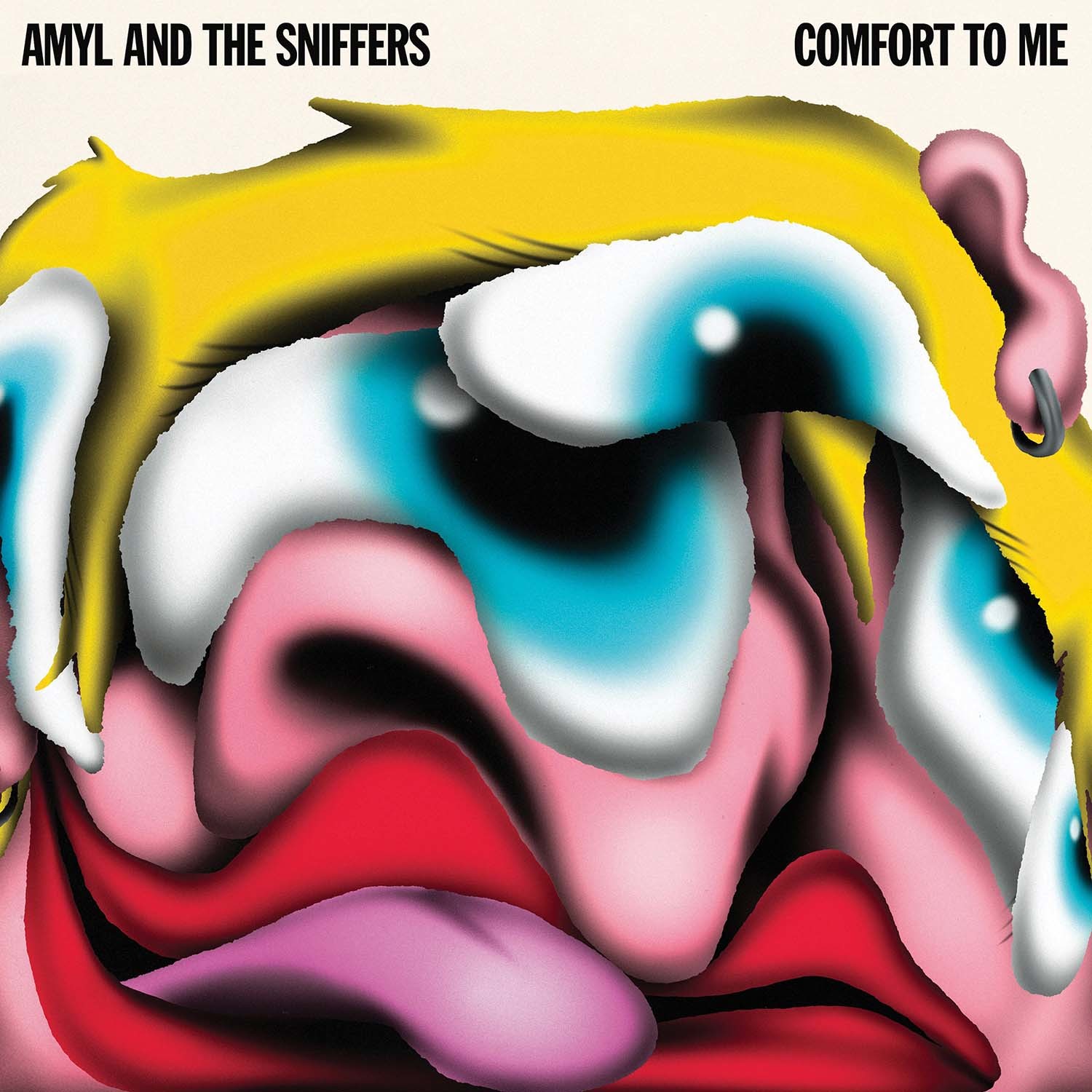 If you're looking for not only the best Punk record of the year, but THE record of the year, then I am here to help. It's this one. 100% this record. Comfort To Me by Amyl And The Sniffers is everything you could want from a record. Are you wanting to feel tough even though you may be chickenshit? Are you wanting to feel like you can take on the world, but also wanting something that makes you feel safe? Buy this record.
My love for Amyl And The Sniffers has no limits. I fucking LOVE everything about this band. I love how they are just the most relatable and no bullshit band around. The songs are so easy to relate to. The songs are so easy to find yourself in. This band, and especially this record will influence so many kids to pick up a guitar and make their own noise. Amy Taylor is the best frontperson in decades. You will not find anyone with more charisma, intelligence and purity than Amy. I think she's incredible. If I was 13 years old, and saw this band and saw Amy for the first time, I'd have sacked everything off and decided to be in a band and not stop until I made something like Comfort To Me. You know when you hear a record so good you just want to cry? This is where I'm at right now.
The record opens with Guided By Angels which we all know is INSANE. I love the positivity in this song. All too often we hear songs that are all "woe is me, the world sucks." But the positivity on this song is gorgeous. I cannot wait for them to tour this record because this song will probably cause the most beautiful riot possible.
Next up we have the wonderfully titled, Freaks To The Front. I love this song. I love the title. I love how it just feels like home. That's what I adore about this record. I feel like I am putting on my favourite shirt, and feel ready to face the day. I love the aggression on this one; I love how relatable this is. Then we are smacked with Choices, which is the best fuck you to people who put others down for the decisions they make; which is I think, mainly aimed at those who try to dictate to women what they should think, feel and what decisions they make. Fuck 'em. Your mind, your body, your life- your fucking choice. Always.
I love how the record feels like it was made with urgency, importance and a fuckload of passion. I just want everyone in the world to listen to this record at least five times. It's got everything you could want from lust to rage. Your heart will break listening to Knifey. It's awful that it's a relatable song, and that a lot (probably most to be honest) women will relate to. I won't spoil it for you, but make sure you dedicate some time to really soak this one up. It's so important, even if it is awful that it's relatable but the message is so important.
I feel like this is the record that so many of us are going to keep going back to, and when we do- we will be left in awe all over again. I've listened to it 3 times this morning, and each listen is just blowing my mind. Everything about Comfort To Me is astounding. The sheer joy you get from blasting this record out is unlike anything else. Comfort To Me is the kind of record that you need to play every single day. It's got everything you need and more, and it's just really one of the most flawless records I've ever heard. I know bands can sometimes put fillers on their records, but Amyl And The Sniffers have shat all over the second record curse and given us something to really adore and cherish. You know when you hear a record, and you just feel "Fuck, I really needed this right now." Well, that's how Comfort To Me feels.
Last year was a drag for us all, and it could have been easy for so many bands to throw in the towel and just sack it all off. Thank fuck Amyl And The Sniffers created this record. Every single song on this record deserves to be heard by everyone. Songs like Snakes, Don't Need A Cunt (Like You To Love Me), Choices, Knifey- the whole record! They are just mind-blowing. I'm just in awe of how phenomenal this record is. This record makes you feel free; every song will make you want to move in ways that others may be confused about but fuck it- music is all about freedom and connection. Comfort To Me is a prime example of this, and I cannot wait for the band to come back to the UK and play this record to us.
By no means is this a review, it's just a massive fan declaring their love for a band that they absolutely adore, and telling you to buy this record and play it loud.