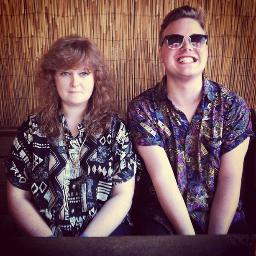 I've not been aware of Bad Grammar for long, but it is spiraled into the need to see them live at any chance I can get. I first saw them live when they supported PINS at The Old Blue Last. That gig was proof that the best things in life are free. Who doesn't love a free gig?!
Bad Grammar are two people (Ben and Lucy) making a lot of noise. Noise that really really needs to be heard by as many people as possible. When I saw them support PINS, I was instantly blown away by how furiously they play. Not with rage, but with a sense of purpose. A lot of bands like to stand around bored, but Bad Grammar really get into it. Ben also broke a guitar string within seconds. I think that sums up how they play really. They make you want to break stuff and will melt your face.
Last night they played Hoxton Bar & Grill. I really like that venue, mainly because I first (and finally!!) saw Dum Dum Girls there in December. I've only been to one gig where there was about 10 people there, and it was when S.C.U.M played The Sugarmill in Stoke. I was annoyed because I felt more people should have seen them because they were a bloody good band. The same goes for Bad Grammar. They played supporting Shiva And The Hazards (we left after their first song) and Abjects, who were on after Bad Grammar. Abjects were really good. They reminded me of Camera Obscura mixed with The Shirelles. They play shows in London quite regularly, so go see them if you can.
So, Bad Grammar played to about 10 people but it felt as if they were playing to about a thousand. I'm usually in awe of drummers than can sing and drum at the same time. However, Lucy does the damn near impossible- she can smile and beat the living shit out of the drums. She's one of the best drummers I've ever seen, and manages to look wonderfully happy doing so. Ben sings every song as if his life depends on it- that's how you believe in a band. I watch him play his guitar, and I can't help but think he's going to hack a finger off from playing like that. It's brilliant to watch; to see a band give it everything they have when around 10 people are watching them. I'm sure there are arrogant wankers out there who would refuse to do so, but they're not worth listening to. Bad Grammar obviously are.
Their energy is like a toddler that's eaten a load of Skittles and washed them down with some cheap lemonade (Cresta Lemonade, that's the best one.) A lot of bands claim to have the essence of Punk in their music, when really they just sound like Paramore and it makes you want to throw up and cry. Bad Grammar have the kind of songs that would make Iggy Pop proud. They've got short punchy songs like the Ramones- but they play a little bit harder than them. Their sound is a little bit louder- but they play with a proper Punk attitude. It makes you want to start a band.
I was sad that there weren't many people here to see Bad Grammar yet they all piled in for the main band. I hate missing support bands because for the most part, they are really fucking good. I sincerely hope that Bad Grammar become one of the biggest bands around, because this duo have something a lot lack. If you see them live (if you live in Manchester, you swines will get to see them more than most! Jammy gits!) you will understand why I'm pissed off at those who missed out last night and also, why this band aren't fucking huge.
Their EP, Forced Fun is out 31st March on Flatpack Recordings. Buy it.
Have an action shot:
Sorry about the quality, I don't have steady hands it seems!