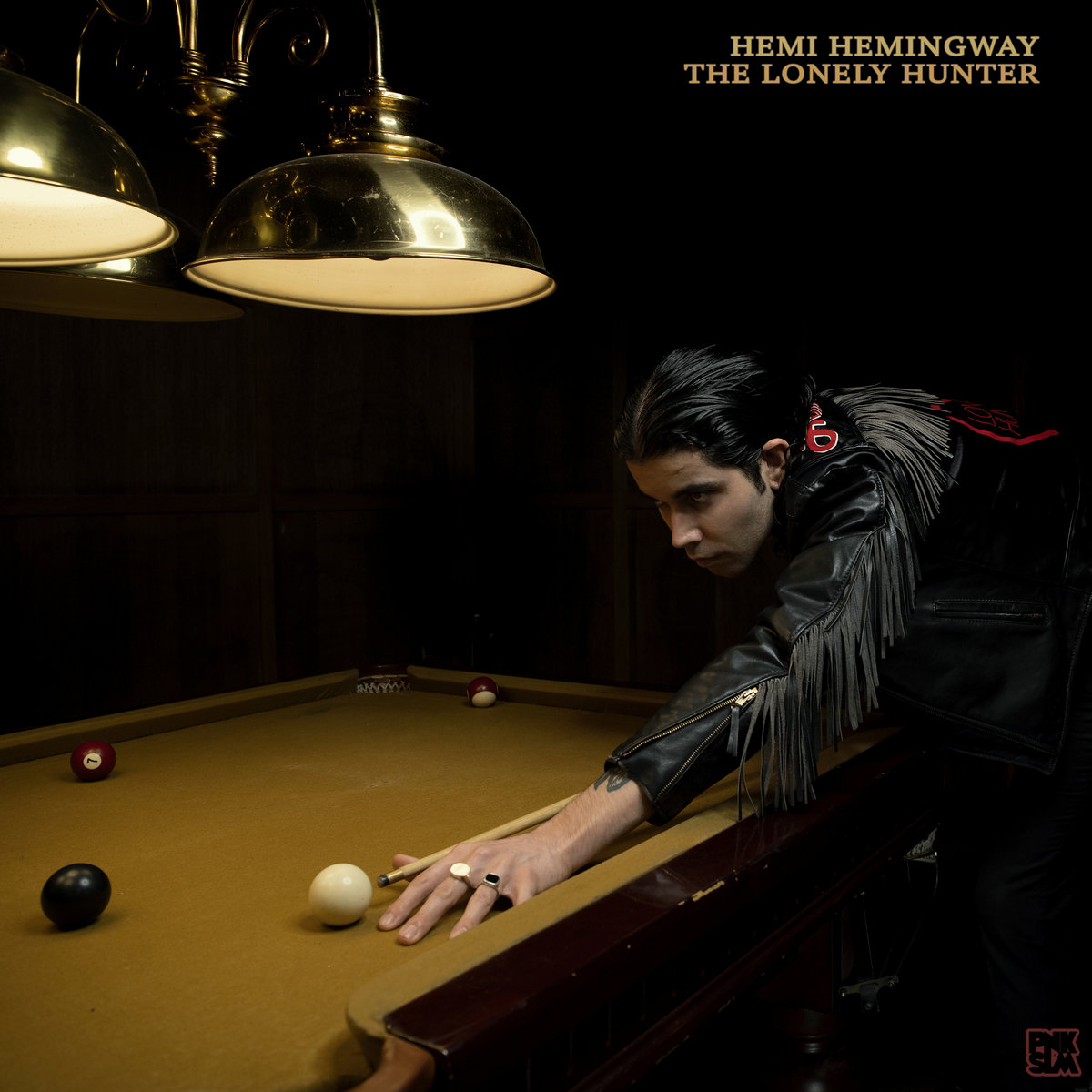 There've been some remarkable records released this year so far, and one in particular that stands out is the debut EP by Shaun Blackwell aka Hemi Hemingway. It's a gorgeous and romantic EP, and it explores every emotion possible in the most open way possible. If you're looking for a record that will break your heart, comfort you and just leave you in awe; then The Lonely Hunter is for you.
The record opens with the euphoric Burnin' Blue. It's a sad one, but one to really love. You get a 60s Wall of Sound feel from this record, and Burnin' Blue captures it so well. It is such a strong way to open the record with. These six songs are just a pleasure to listen to, and you cannot help but get lost in Shaun's voice.
If you've heard Shaun's previous projects such as Night Shades, then you'll just be stunned by his change in style. His vocals as part of Night Shades gives you a feel of The Cramps but his new project is something else. He just combines everything I love about music, and makes something you've never heard before.
I love the sadness in It's So Hard To Say Goodbye. It reminds me of a cross between Ezra Furman and Shannon and The Clams. Then you get right into the titled track, and you cannot help but gently sway your body side to side in time with this precious love song. I adore the way Shaun shares his influences on this record, but also makes it so current and so relatable. It's a different side to him, but the same passion. It is just such a joy to listen to and to just soak up these hypnotic sounds that will become part of you. The titled track is just a heartbreaking one, and the pining in Shaun's voice is remarkable. There's a desperation there, but not in a way that makes you shy away from it. If anything, it just makes you relate to it even more. It is a perfect record.
Hemi's Lament has a touch of Leonard Cohen on it, but what I love about this record is that you could easily think you've found a record from decades ago. It does feel current but at the same time it feels like you've been thrown way back in time. It is such a poetic and vulnerable record. I love the way Shaun has explored what influences him and has also experimented so much on this record. In just six songs, he has made something that stands out. It is such a pure record and it's one that you feel you'll keep going back to. For me, it's the kind of record you have playing in the background as you sit in your favourite chair whilst nursing as cup of tea or a whiskey. It's got something about it that would sound perfect in a film. You know the film Lucky that starred the great Harry Dean Stanton? This record would have been perfect for it. Shaun could easily soundtrack a film, and this record justifies this perfectly.
Move Over Darling reminds me a tiny bit of Johnny Tillotson (if you don't know who he was, you are missing out. Underrated- severely!) There's a gentle nod to the late 50s/early 60s on this record, and it is done in such a careful but divine way. I think it is just one of the most beautiful records to have come out this year. My Lover, A Strange Her closes the EP and it is such a wonderful, wonderful song. For me it really shows us just how great Shaun is as a writer. He writes poetry that comes from the soul. Aside from the sax on the record, Shaun plays everything on The Lonely Hunter. His all has gone into this record and all it entails. It is a masterpiece, there's no denying that.
Shaun explores his emotions and general human curiosities on this record, and he does it in a way that makes you feel he's gone into your head and let your secrets out. If I could force the world to listen to this record, I bloody well would.
Tonight, Shaun will be treating the Shacklewell Arms (best venue in London) to the sounds of Hemi Hemingway and supporting him will be the exceptional Big Dipper. A dream line-up! The show is sold out, but hopefully these two rascals will take this show around the country soon!
The Lonely Hunter is out now via PNKSLM Recordings (and also Rough Trade.)