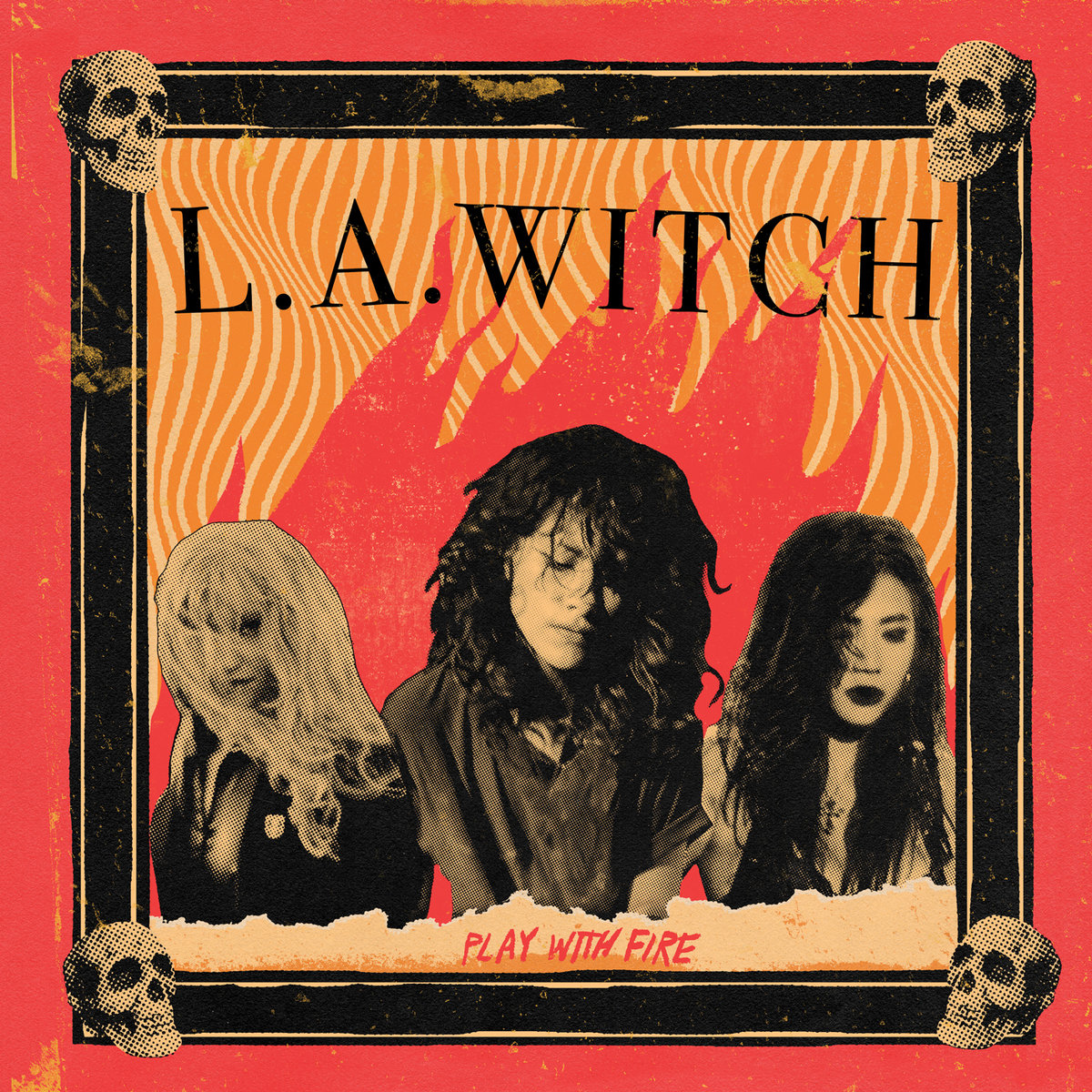 One of the few things I've been super excited about is the brand new record by the finest band from L.A. A band who I have been obsessed with, in love with since the very start. A band who perfectly capture everything I love and want from music. A band that have been the soundtrack to my days- good and bad. A band that are just the coolest. A band that everyone should fall in love with.
This Friday, L.A. Witch's second record, Play With Fire will finally be released. I've had a copy for a couple of months, and I've been dying to write about this record. Now I can finally do it, I'm not sure if my words will make sense but hopefully you will be able to make sense of my love for the record and get yourself a copy on Friday.
The record opens with the tougher than leather anthem, Fire Starter. It perfectly sets the mood for this record. It's a record that you can imagine listening to whilst on the open road, the wind blowing in your face and slowly, every worry you carry is falling away from you. This follows right into the anthemic Motorcycle Boy- which is beautiful ode to a loved one in a way that only L.A. Witch can do. There is no room for comparisons here- whether it be to other bands or to their debut record. Play With Fire is the record of the year; that's all you need to know.
Sade, Irita and Ellie have hugely excelled themselves on this record and have given us that holy water we desperately need to cleanse our mind, body and soul right now. The record is a masterpiece, and everything about it just oozes something so raw, so cool- it's such an exciting record and they have truly gone above what we thought we were going to get on this record. Forget what you'd previously heard- Play With Fire is where it is at.
Dark Horse is a song I really need to praise. I know I said NO comparisons, but this song gives me serious Jim Morrison vibes. The poetry in the words, the way Sade's vocals on this are just unreal. On some songs her vocals are distorted, but here we can really hear how strong her voice is. It also shows us how Ellie and Irita have tightened their sound, and along with Sade's guitar- it's just the perfect song. If you want a song that shows you how far the band have come and how they have perfected their art once more, then this is the song. Easily.
You know when you hear a record, and you just imagine how it will sound live? That's what L.A. Witch give you here, and more. I'm not talking dingy and sweaty basement bars here- I'm talking big stadiums where the front row is made up of kids who will cite it as their first show, then go on to form their own bands and change the world. That's how great this record is. The riff on I Wanna Lose blows my mind every single time, and with Ellie's drumming and how Irita brings this urgency with the bass, and you've got Sade unleashing hell with her guitar- come on! What more could you ever need?
Play With Fire is the record we all need right now, and for eternity. It's got this seedy road trip feel to it, it makes you feel like you've tripped up into an underworld that no one else has discovered yet. You also feel like you've joined a cult and L.A. Witch are now your guides. Do what they say, and you'll be fine. The attitude on this record is on point, songs like Sexorexia (please god make this a single!) is empowering. It's tough and my god Sade's vocals will give you goose bumps and make you feel like you've found your own nirvana. It is INCREDIBLE. There's something about this record that feels nostalgic but also unheard of. It is a proper magical record, and every single song on this record will take you over completely. Every single song deserves its place here, and the way the songs are placed is perfect. Listen to it in order first, then do whatever you want with it. Play each song 5 times before the next if that's what you want to do. Blast it as loudly as you can. Knock on your neighbour's door to tell them how great it is! Tell anyone who will listen that THIS is the record of the year. Play With Fire is one of those records that we will be talking about in years to come- it's got a timeless feel to it, and it's unlike anything you will have heard before. It is a truly mind-blowing listen from start to finish. If you want songs to waste away the day to, to escape to or to even heal parts of you- LA. Witch have got you covered, always.
The record feels like the best acid trip imaginable (I've never done drugs, but I'd imagine this record is how it feels.) You are taken into a different world, and what I adore about Play With Fire is that is stands for something. It's a courageous record, and it gives you something to believe in; and it makes you feel like an outlaw on the run whilst listening to it. This record could easily be the soundtrack to a film, and I hope one day L.A. Witch create the soundtrack for a film because it would just be insane! For me this record fully justifies why I adore the band so much. Ellie is the best drummer around. Irita is the best bassist you'll hear and Sade is ferocious on guitar, and her vocals are just as powerful. L.A. Witch are a band that are going to get better and better with everything they do- that's obvious.
I'll wrap this up with a quote from Sade about the record: "Play With Fire is a suggestion to make things happen. Don't fear mistakes or the future. Take a chance. Say and do what you really feel, even if nobody agrees with your ideas. These are feelings that have stopped me in the past. I want to inspire others to be freethinkers even if it causes a little burn."
Play With Fire is out this Friday via Suicide Squeeze Records.