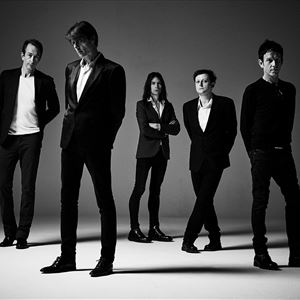 Over the weekend, I finally got to see a band who I have adored since I first heard them in 1993. It was Animal Nitrate that got me. I was only 7 years old, but I remember being in absolute awe of Brett Anderson. Everything about him just had me hooked. His voice, the way he moved and the way he looked. A few years later I had the same experience when I heard Garbage for the first time. I wanted to be Shirley Manson.
Suede were my childhood, and their music has been my everything ever since. I never thought they'd be a band that I would see live, let alone two nights in a row. How do you prepare yourself to see a band that you've grown up with and have been your world? Quite simply, you don't. What you do is bawl like a baby as soon as they set foot on to the stage. Which is what my girlfriend and I did. Suede is the band that are ours, and to finally see a band that we love together was just incredible.
There is no denying that Brett is an exceptional frontman. The energy he has and the way he moves puts newer bands to shame. He leaps across the stage like a gazelle, and has the voice of an angel. Known for going into the crowd during some songs, he has his shirt ripped both nights. He sings the songs with such importance, as the torn fabric of his shirt is swaying to the breeze of the on-stage fan behind him. He lassoes his mic around him, and above the crowd like a ringleader. He then wraps it around his body and neck; he does it in a way that has him grinning directly at Simon (the exceptional drummer) and it is just the most beautiful moment between the two.
Why did we go two nights in a row? Well, I convinced myself that the set list would be different. I'm hardly ever right, but thankfully I was this time. Although they could perform the alphabet and I'd still think it was the best thing ever. Let me just explain to you why night one was out of this world:
Acoustic version of Mistress
Sleeping Pills (I cried a lot during this)
The Drowners
It Starts And Ends With You.
How is that for back to back Suede gold? Absolutely perfect. It was my version of Christmas. So how was night two going to compete? Acoustic versions of She's In Fashion and The Wild Ones (I bawled my eyes out to this.) The Wild Ones is one of the most gorgeous songs ever written, and to hear it in this stripped back way was so overwhelming in the most beautiful way possible. Both nights were truly magical, and just reinforced my love for this brilliant band. Nothing and no one compares to them, and two nights of seeing them just wasn't enough. I need more, I want more.
They played one of, if not the best venue in Manchester- the Albert Hall. An old church with its stained glass windows. There was something about this venue that made the shows out of this world. The band all looked in awe of their surroundings, with Brett occasionally hitting his heart to show his appreciation.
The crowd was wonderful. Every single song was sung back as if you were in a stadium, and songs like Trash and We Are The Pigs were screamed back at the band in a way that just oozes sheer devotion, love and obsession. You can truly see how much the band love each other, their fans and playing live. They are easily one of the best bands I have ever seen live. I had no idea what to expect from the shows, but it's claimed a large piece of my heart for sure.
The shows end with Beautiful Ones and the gorgeous Life Is Golden (a song which is for Brett's son.) To see people sing the words back at Brett to Life Is Golden is truly something else. He steps into the crowd, and clings onto the fans as he sings "You're never alone" is so precious and something that stays with you.
These two shows were some of the greatest ones I've ever been to. For sentimental value, it's easily one of the most important and the songs played were heavenly. It felt like an almost religious experience, and is something I am going to remember and treasure for a hell of a long time.