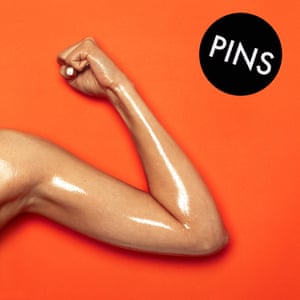 Everything I've ever written about PINS is probably going to come out again as I write about their gorgeous new record, Hot Slick. With all the rubbish going on in the world- we need something to make us feel better. You can find that in Hot Slick, and that's a promise.
PINS have been a band that I've been in awe of since the start. I found them by accident, and never looked back since. I can't count how many times I've seen them live and again, I promise you that their live shows are amazing. They were due to play an album launch show tomorrow night here in Manchester, but that will now (hopefully) happen in October. It'll be my first time seeing them in the city I am proud to call home. I'd only ever seen them play in London, so this show will be extra special when it happens.
Something you really get from PINS is that their songs are made to be witnessed in a live setting. They are a band that really show you what they are made of when you go to their shows, and what they have done on Hot Slick is not only show us that this record will be incredible live, but they have laid it all out on record. Forget what you heard on Girls Like Us and Wild Nights- Hot Slick is a different level. I love both records a hell of a lot, but that new sound is so strong and a real joy to listen to.
The only downside is that the record lasts about half an hour, but we can get round that by playing it over and over! There is so much to love about this record, and one thing I love the most is that Jamie Hince from The Kills produced the titled track. If you've read anything I've ever written, you'll know just how much I fucking LOVE The Kills so this is a pretty huge thing! PINS have worked with Iggy Pop and Jamie Hince- that's pretty incredible. PINS don't have a distinctive sound, and that's really clear on this record.
They aren't afraid to experiment with their sound and to push what they can do. They are truly one of the most hard-working bands around, and that dedication comes right through on all they do, and Hot Slick is a raw declaration of this. I love the title track so much; it's got a strong mix of Punk mixed with Donna Summer. It's the trashing guitar with electrifying Disco feel. It's pure magic and is such a powerful start to the record.
Hot Slick consists of 10 songs that will stay in your head all day. These songs will play on your mind. You'll want to live out Love You To Death (Mark from Leather Party/a bunch of other great bands, and is married to Faith, features on this) and Ponytail will just make you feel like you can take on the world. I started writing this yesterday but wanted to keep on listening to the record in order to try but something coherent together, and to obviously just keep on playing the record. Daisies is the ideal song to listen to if you're looking to self-isolate in the park with the sun hitting your back. The whole record has a Summer feel to it, and although the world is strange and uncertain right now- we are still lucky to have bands like PINS give us music to keep on going. I adore how different Hot Slick is, and how they have made this destined leap into this sound. I love the sheer dedication and passion in this record. It's a proper labour of love and hard-work, and that just makes you treasure it even more.
Well, now it's the 30th May and it would have been their album release party at YES tonight here in Manchester. I'm not the only one who is just itching to go to a live show, and the uncertainty of not knowing when it will be is brutal. But we will get there. In the meantime, we can blast out songs like Read My Lips, which is the ultimate anthem on this record, and just ignore all that's troubling us for a little while. This is such a fantastic record, and you cannot help but be massively proud of PINS for what they have created here. I know the whole point of a "review" is to be constructive, but by no means would I write about something I didn't like or could find fault in. The world is already full of negativity, what's the point in adding to it? If what I've written makes just one person listen to the band/record I've written about, then I've done what I wanted to do. It's not a review, it's a declaration of appreciation for a bloody brilliant record.
Set Me Off has an AMAZING Talking Heads (I'm getting a Burning Down The House feel from it) feel to it mixed with something I can't really think of right now, but it's easily one of my favourites on the record. I love how every song on this record feels like it could be in an off the wall indie film, that's a bit decadent in places. It is such a bright and care-free record, and I probably wouldn't trust anyone who sees any bad in it to be honest!
There are so many thing that make this record a sheer joy to listen to, and there are so many moments on this record that make you realise why you bloody love this band, and music in general. Love You To Death needs to be a single, just because I reckon the video could be wild. PINS are one of the best bands to ever have come from Manchester, and Hot Slick fully justifies that. If you're looking for something to really get into your soul, take over your mind and make your record collection look cooler- pick up a copy of Hot Slick from your local record shop, and play it LOUD.
There are still some tickets left for their rescheduled tour, which you can grab here:
https://www.songkick.com/artists/410582-pins
They are also auctioning some really cool items right here too: