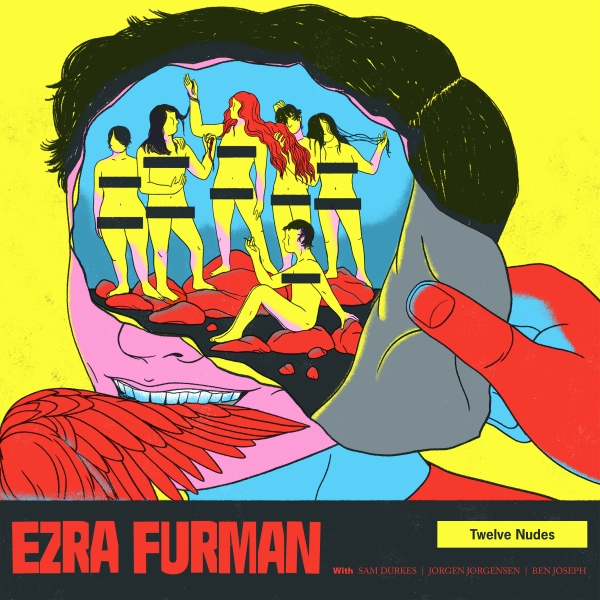 Ezra Furman has finally made the Punk record that they wanted and needed to make. It is also the Punk record that we all need. Losing my Grandma just under 2 weeks ago, I've felt myself lose interest in most things, I have more panic attacks than I can count, I am crying at any given moment and obviously, I cannot cope. I spent some time today really REALLY listening to Twelve Nudes. Bawled my eyes out. It's a record that sums up everything that is going on in my head, and I'm so grateful that Ezra has made this record. Ezra's playing Manchester on my birthday. As much as I now no longer care for my birthday (and Christmas) I'm glad I'll be spending it watching the person who is narrating my every thought. I sure hope my girlfriend is prepared to deal with me at my crying best.
Twelve Nudes opens with Calm Down aka I Should Not Be Alone. The title alone sums up exactly everything right now. The lyrics smack me right in the gut; it's like a relief that someone else is saying how I feel because it is so exhausting to be honest at times. The sheer fury and passion in Ezra's voice just makes you want to shout along with them until your throat bleeds. There is something so important about this song, and having it open the record just sets the tone for how fucking truthful and vital this record is.
I have been a huge fan of Ezra's for so long, and to hear them make this kind of record is truly mind-blowing. I've studied Ezra's records religiously, and I always claimed Day Of The Dog as my favourite (closely followed by Banging Down The Doors, which is a masterpiece) but what Ezra has done with Twelve Nudes is something we all hope for the musicians we love with everything we have- Ezra has made the record of the year, the record of his career and the record for those who really need something bigger than they can comprehend.
I've always been in awe of Ezra's lyrics; they have the storytelling style of Lou Reed mixed with something that really goes beyond music. When I listen to Ezra, I feel okay and safe in my skin- I've not had that in a while. We battle with ourselves to be honest at times, and having people like Ezra vocalise these worries, insecurities and fears tames it all slightly. Ezra really hits you in the soul with this record, and they do it prominently on songs like Transition from Nowhere to Nowhere. This song is full of hope and finding comfort in the things that go beyond us. I truly hope Ezra plays this on tour.
The more you listen to this record, the more you see just how much we need this record. In a world that is still full of every ist and phobia, records like this are so crucial because they show us the struggle that so many of us face. You cannot silence a minority, and you can silence those who have been hurt forever. Trauma is a song that is just so heavy in every single way. The music is so rugged and raw; you can truly hear the passion and fury in the music, and of course, in Ezra's voice. There's this bbeautiful rasp in Ezra's voice, and it just makes you really feel every single word that Ezra aims at you. You want to scream every word out just like Ezra as he narrates everything going on in your head.
The sheer tenderness on this record and the urgency in every song just gives you this unconditional feeling of security and comfort. I may be breaking down constantly and crying but this record is almost like medicine. Twelve Nudes is the record that you cling to and refuse to ever let go of. For me, it is one of the most important records of all time- not just for our Queer culture, but for society. There are songs on this record that reach every single part of you, and just pull out the things you're meant to be afraid of feeling. When you let yourself feel it, you feel a bit freer. Sometimes, that's just what you need. This record has come from the heart and soul, and you truly feel that in every song.
I could probably write a full-blown essay on this record, but I think the main thing for me to say here is that it is truly one of the most remarkable records I've ever heard. It's a record that I know I'll never get enough of. It's a record I will constantly play and keep falling in love with. Ezra has that effect; you cannot help but go back and listen to all their records and finding new things to love about them. Every record Ezra has made has always been so important to me, but with Twelve Nudes, Ezra has gone beyond everything and anything you'd expect. The sheer openness on this record and that proper Punk feel and attitude is beautifully done. It is such a joy to listen to, and to find safety in.
Although I feel utterly lost and empty, I have found something in this record that I quite possibly cannot put into words. Or the words have yet to form. All I know is that I'll be leaning on this record for a long time, and if by some strange stroke of luck Ezra sees this- thank you. Thank you for speaking up, for creating this record and for being unafraid in your art. Thank you.