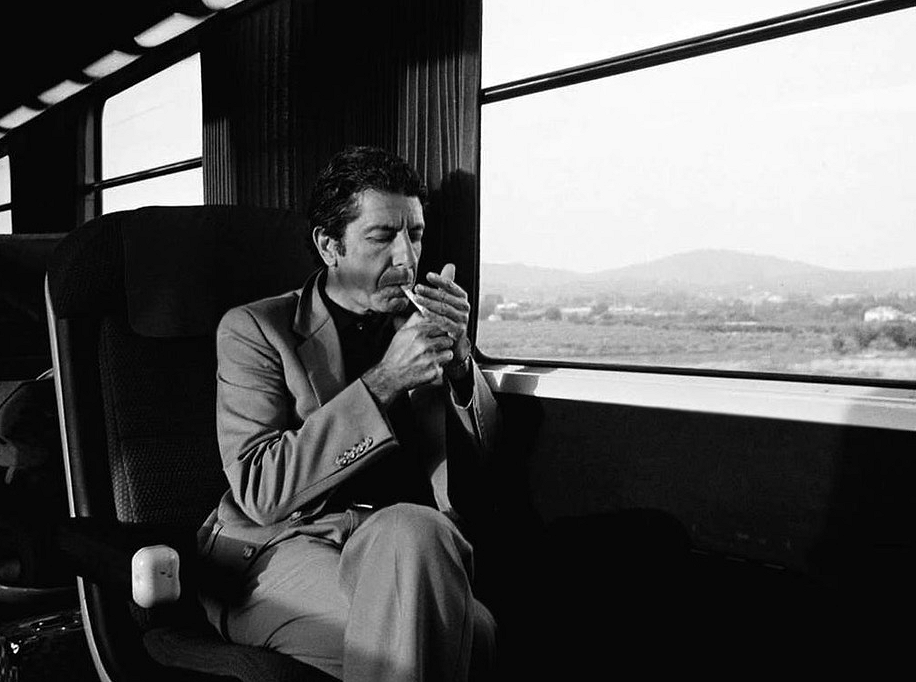 "Shouldering your loneliness
Like a gun that you will not learn to aim
You stumble into this movie house
Then you climb, you climb into the frame."
The past few days I have been thinking about turning 30 and all the songs that have played such a vital role in my life. I've tried to pin point songs but I draw blanks. I think of certain bands and singers, and I find a home that four walls never could build. I've always been obsessed with words from a very young age. I am fascinated by accents, how people choose to word things and how poets/singers take you to another world. Perspective. My world revolves around Nick Cave, Lou Reed, Patti Smith, Morrissey and Leonard Cohen. The latter broke my heart when I woke up this morning.
A few years ago whilst living back home I went to an indoor market. This place became my safety net for some time. I would wander round and pick up records for about £2 each, and hold them tightly on the bus journey home. I remember finally finding a Leonard Cohen record for £3 and I felt like I had won the lottery. I had the same feeling when I found Transformer by Lou Reed for the same price.These are the times where you feel like the luckiest person in the world and nothing can touch you.
At university in either my second or third year, I remember sitting in the film theatre watching the I'm Your Man film. Again, I was in awe. Leonard was…is…was one of those souls that you are constantly in awe of. His majestic and vivid way with words have been engraved upon my heart from a very young age. My mum had a few records she would play when I was younger and I couldn't sleep. Leonard was one of them. As an adult, he's been one of the few I have turned to when I just couldn't cope. I'm constantly stuck in this horrific low mood that bears a burden to me and all around me, and when I play certain songs and I zone out-all is better. Leonard was one of the few who got me to switch off and zone out. What am I meant to do without him? Songs From A Room was the record I bought for £3, and it's been my secure source of comfort and a friend for when I feel completely and utterly alone. I still have the music, we all have the music. But the physical form of the friend has gone. Oh Leonard. What are we to do without you.
His words and his music taught me more than any teacher could. I didn't care for long division or the square root of something. I cared about Marianne and Suzanne. I was taught the biggest and most powerful thing of all from Leonard- love. The dark, brutal, raw side of love. The kind that keeps you alive. He taught me how to accept it and give it. I like to think I've finally got there. But now what? What do we do without you, Leonard? This morning when I woke up and found out, I clung to my pillow and cried. I cried like a baby. Maybe I am foolish for missing and grieving over someone I never met but I really do not care. This man has been my life, this man has saved my life even when I didn't want it to be saved. His words healed and now they break me but I know they'll heal one day when it eases that he is no longer here.
Love Calls You By Your Name has always ALWAYS been the song I went to when I just didn't know what to do. I don't know what to do now, so I guess I'll have to find some form of strength to listen to his music, to this song and somehow get through. I had a few of his poetry books and for so long they lived next to my bed. Over the past few years I've had trouble sleeping (or turning my brain off) and I used to wake up in the middle of the night, unsure of what to do. I'd sit up, reach for one of his books and read. Read until all felt okay. Read until I felt like I could shut my eyes and drift off. Now when I close my eyes, I just see Leonard. I just see him with his tilted hat and a smirk. My idol, my king, my world. As he goes into another world, a world safer than the one he has left behind.
Like anyone who idolised him, I feel like I've lost a relative. I feel like I've lost my guide and my friend. When your hero goes, a part of you goes with them. Which part goes? Which part stays? Right now, I feel like that toddler who cannot sleep who just wishes to be in their mother's arms with Leonard playing as I slowly fall asleep. Care free, aged three. That's when it is all okay. Now I'm one day away from 30 and I have no idea what to do. Oh Leonard, what are we to do without you.
Your heroes teach you to be brave, to ask questions, to be yourself and to always do what feels right. But they do not tell you what to do when they go. That's something we need to figure out on our own. I wish Lou Reed was still here, I wish Leonard was still here. I wish, I wish, I wish. Leonard's music and his poetry has been with me for as long as I can remember, and that's what we cling to now. We let go of the physical side and cling to what they have left us with.
Leonard said he was ready to go, but I wasn't and won't ever be ready to let him go.